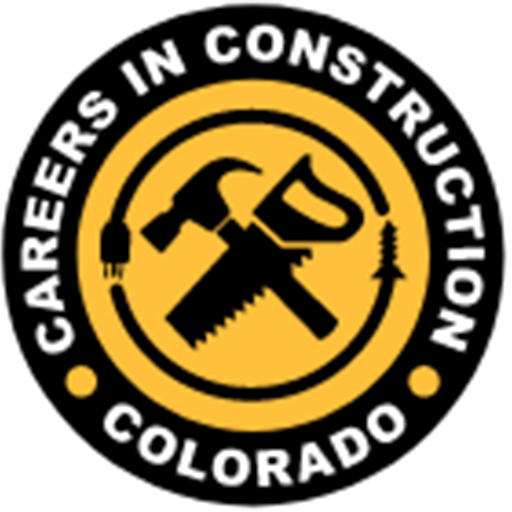 EMPLOY A STUDENT
GET CONNECTED TO STUDENTS WITH ON-SITE JOB EXPERIENCE
EMPLOY A STUDENT
GET CONNECTED TO STUDENTS WITH ON-SITE JOB EXPERIENCE
How to use our employment platform
Create your company profile, be sure to include your HBA Company ID under Professional Affiliation.
When posting jobs, include specific skills for each job posting. The skills included will match your job posting with CICC students who include the same skills
All applicants can be reviewed and contacted this platform.
INTERVIEW AND HIRE A CICC STUDENT!
CAREERS IN CONSTRUCTION JOB PLATFORM
JobsToBuild is the residential construction jobs platform bringing employment and career opportunities to job seekers, and talented job candidates to employers across building trades. The platform is powered by The Building Talent Foundation (BTF), and sponsored by the leading homebuilding companies. Careers in Construciton Colorado has partnered with JobsToBuild to get our students jobs in the construction industry. 

BUILDING TALENT FOUNDATION
BTF's mission is to advance the education‭, ‬training‭, ‬and career progression of young people and people from underrepresented groups‭, ‬as skilled technical workers and as business owners in residential construction‭.
How to engage and grow your workforce
Job Shadow:
One day, 2-4 hours with an experienced worker in a specific trade.

Internship:
60 hour or 120 hour of supervised
hands-on training.

Guest Speaker:
Come speak in the classroom so students can learn more about the trades.
CICC staff work with students to determine their interests, build their professional skills, and help connect students with the construction industry.
The Careers in Construction model focuses on each students' interests, skills, and abilities. Staff work one-on-one with students to ensure strategic placement within the industry. Each student receives an employability score from their class instructor based on their skills, work ethic, professional conduct, and overall performance in class. These ratings are not only a valuable resource to students, but also to employers.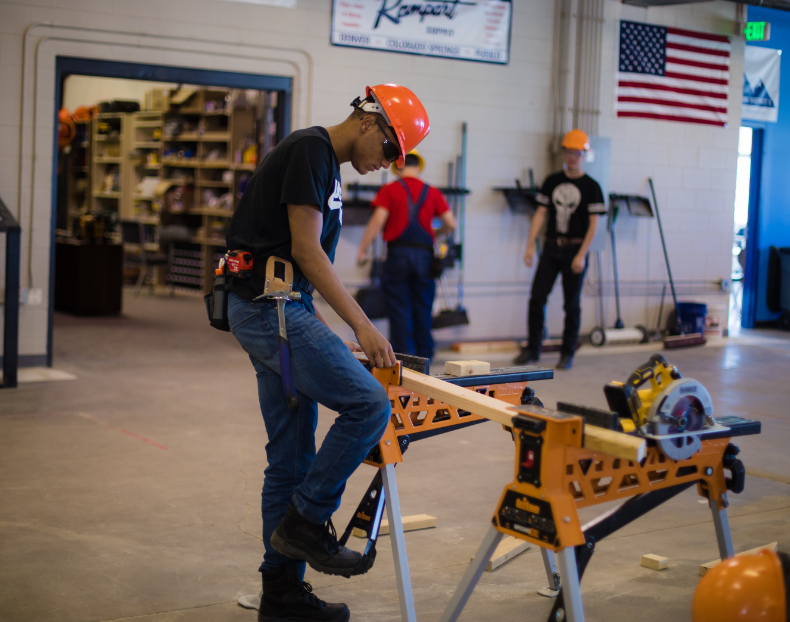 Students have the opportunity to engage and learn various skill sets while enrolled in the Careers In Construction program. Every student will have the opportunity to explore their interests in a real world work setting with companies that support the program. Ways that students can explore and gain hands-on work experience in the trade of their choosing is through job shadows, internships, and possible employment. CICC allows for high school students to learn more about a particular occupation in the construction industry to see if the chosen profession or interest is suitable for them. These work based learning opportunities provide an experience for students to witness and perform hands on opportunities while accompanied by an experienced worker as they perform the targeted job.
WHY EMPLOYERS
SHOULD HIRE CICC
STUDENTS:
• Interest in construction and job-site experience
• Certified skills, and recommendations by instructors
• Understanding the value of safety and integrity
• Familiarity with tools, materials, and processes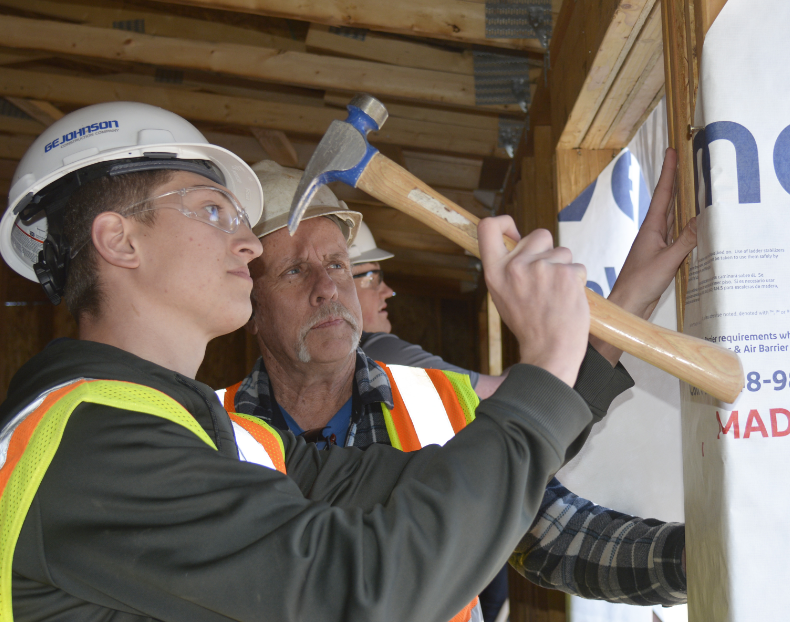 Construction Youth
Paid Internship
Program
In 2019, the Housing & Building Association of Colorado Springs & the Associated General Contractors of Colorado applied to the Colorado Department of Labor and Employment (CDLE) for a program-wide youth exemption from Colorado's youth safety regulations so a 15-17-year-old student can perform construction duties on a project site in paid internships. On April 1, 2019 CDLE granted HBA and AGC permission to employ 15-17-year-old students on construction project sites if they have completed the Pre-Apprenticeship Certification Training (PACT Core) level of the Careers in Construction Colorado (CICC) high school construction program. The letter notes that the CICC program uses the Home Builders Institute (HBI) curriculum which is approved as a pre-apprenticeship program by the U.S. Department of Labor, and includes a safety component including the OSHA 10-Hour course.
The bottom line is that a 15-17-year-old in the CICC program can work on a jobsite, and perform functions such as excavation, work on scaffolding, and work with power tools, all while earning elective credit for a high school internship.
Employers who are hiring these students will need to obtain from CICC staff verification that the student is enrolled in or has completed the PACT Core curriculum and has received their OSHA 10 certification.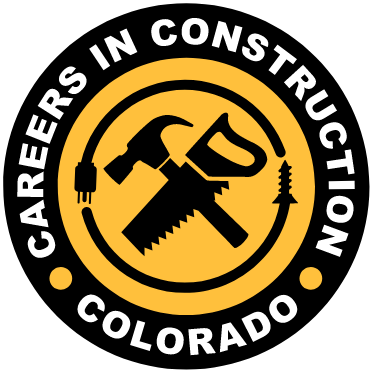 Copyright ©2020
Careers in Construction Colorado
All Rights Reserved